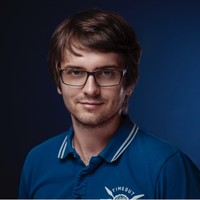 Hi and welcome!
I'm Tomas Srnka, I'm a builder. I love building solutions, services, products, infrastructures that help people succeed online. I can't do it alone and I don't want to. I prefer to put together and flourish best teams that can help me on the journey!
I'm currently working as a CTO CEE for WebSupport (part of Loopia.group), which is one of the biggest shared hosting and domain registers in Europe.
I've also co-founded a non-profit organisation vpsFree.cz z.s. that provides virtual machines for its members, mostly within Czechia and Slovakia.
In the free time, I maintain PHP extension for Memcache support.
Previously, I had my own startup called Relbit, which was building an auto-scalable Platform-as-a-service for applications written in PHP & MySQL. I did not turned out as we expected, so we closed down the business by the end of 2014.
Occasionally, I do tech & business consulting and I give talks.
Feel free to get in touch, just drop me a line at [email protected]. I would love to hear from you!
You can also find me on Twitter @tomassrnka or on Linkedin /tomassrnka.